The EM10 is the custom version based on the S-EM9 fantastic DNA.
Two years were necessary to bring this project to life and eventually give birth to the best custom in-ear monitors available on the market.
ORDER
LEGACY
The EM10 results from our expertise and the experience acquired over the past years working with professionals from the audio field.
INNOVATION
More than a simple concentration of our knowledge, the EM10 goes further with the development of new 100% proprietary drivers as well as the exclusive use of our 3-channel asymmetrical output canal profile, always with the aim of improving sound quality and musicality through an ever more realistic sound stage.
PERSONALITY
The EM10 is defined, in terms of sound rendition, by two important adjectives in the eyes of passionate audiophiles : musicality and respect of stamps, EarSonics' Leitmotiv since its creation.
EXCELLENCE
The EM10 becomes the ultimate flag of our knowledge and passion for music and sound.  The EM10 combines demanding design, custom manufacturing and above all high quality sound restitution.
If your are looking for the best musicality experience, the EM10 is the earphone you want.
STEREO
STAGE DISTANCE
DETAILS
SUB
BASS
LOW MID
MID
HIGH MID
TREBLE
---
SPECIFICATIONS
Sensitivity: 119 dB/mW
Frequency response : 10 Hz -20 kHz
DCR: 26,6 ohms
Driver: 10 balanced armature drivers, HQ 3-way passive crossover with impedance corrector.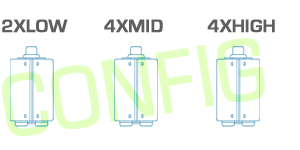 IN THE BOX
EM10 with HI-RES 4C and HI-RES 8C audiophile cables
Comes in a luxury ES packaging.
1 cleaning tool
Carrying Case
3.5mm jack adapter
Manual
---